Incident Reporting Software
>>
Free Incident Report Form Templates
Published 02/06/2021
2022 Best Free Incident Report Form Templates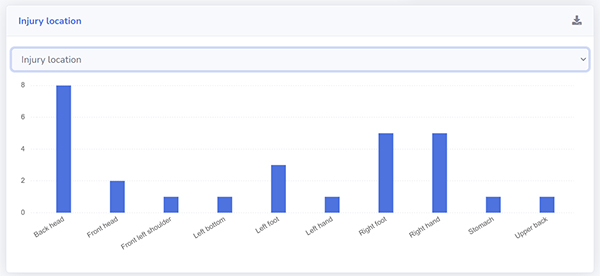 We've created a free template library of the most popular Incident Report forms. Incident Reporting is the first mechanism of describing what happened in a safety, security, environmental, quality, property or other type of incident. It's important that your workforce have the means to quickly report what happened, why it happened and even what could be done to prevent it happening again. We've put together the best free incident report form templates as categorised below. Feel free to use them. Commonly these forms will form part of your Safety Management Platform.
Creating a workplace specific
Incident Report Form
Incident Report forms are often best setup as workplace specific forms. Afterall, when an incident happens, the questions you are recording about the nature of that incident vary based on the type of workplace environment that the incident has occured. Was it outdoors, in a facility, an office building, at home? The follow on questions about identifying how that occured will then change too.

Each Incident Form might have its own stand alone incident register, a registry of all open and closed incidents for that specific form.

Try out these Incident Registry Templates

- Injury Report Registry Template

- Compliance Registry

- Security Incident Registry

- Environmental Incident Registry

- Near Miss Registry template


Try setting up your own here or use our templates
Setup an Incident Report Form
Looking to create and setup an online Incident Report form? Get started here:





Ranked #1 on the App store for Incident Reporting
Available since 2012
Used by thousands across the planet
Download the Free Incident Report App for iPhone or Android
Constantly updated - leading the future of Incidnet Reporting
A game changer for live incident reports in the workplace


Injury Report Form
This is a common report type for incident reports that are injuries in the workplace for staff, contractors or visitors. Also known as an accident report form. Record lost time injury details, mechanism of injury, severity, nature of injury, first aid or medical treatment details. What is the staff work status? Unfit for Work, Fully or Partially Fit Restrictions? Did they attended hospital? Does this incident need to be notified to the relevant Safety Regulator? Is this an accident in the workplace? This might be the core reporting part of your overall injury management software.

View Injury Report Form Template



OR try scanning the above QR code!
Accident Report Form
This is a form used for reporting an accident in the workplace. An accident could be an injury, damage, close call or similar accident focused incident. Accident Report form might include fields such as date of accident, location, witnesses, details of what happened, what was done in response, any first aid administered, damage done, police report lodged and other accident focused fields.
Security Incident Report Form
This template is for reporting security incidents or breaches. Was a police report made? the reporting the details of the security breach or incident and more.

View Seucirty Incident Report Form Template

Property Damage Incident Report Form
Track estimate costs of damage, party involved, witnesses, evidence, police reports, task that caused the damage and more

View Property Damage Form Template

Environmental Breach Incident Report Form
Was there a spill? what quantity? Is it a notifiable incident? what we involved? chemical exposure? all the details of any type of environmental breach or incident here


Liability Incident Report Form
Was the injury from an unrelated illness? determine the liability involved


Near Miss Incident Report Form
This is the incident type that can prevent serious injuries or worse. What happened, what could prevent it from happening again? empower your entire work force to make near miss reports and yur team can take action to prevent them leading to a full injury / incident.

View Near Miss Form Template

Safety Observation Template
This could be a safe or unsafe behaviour. It could be a positive report or a negative one and could lead to improving an existing process or procedure or prevention of a more serious incident happening.




Hazard Report Form Template
Identify the type of hazard, the causes, the nature, how was it identified? the causes and more This could be a safe or unsafe behaviour. It could be a positive report or a negative one and could lead to improving an existing process or procedure or prevention of a more serious incident happening.

View Hazard Report Form Template

Unusual Behaviour Template
This incident type might be suitable where you need to track bullying or harrassment in the workplace. Report unusual behaviour, witnesses, evidence and more


Vehicle Incident Report Template
Was there damage, an accident, issue with a passenger or driver? Vehicle incident report form for everything to do with company vehicle incidents

View Vehicle Incident Report Form Template

Contractor Incident Report Template
Do your contractors have a digital means for reporting incidents in the workplace? Did the incident involve a subcontractor? Have they been inducted?

View Contractor Incident Report Form Template

Accident Incident Report Template
Report an accident incident report in the workplace, public location, facility or site.

View Accident Incident Report Form Template

Download The Free Incident Reporting App
Start reporting Incidents right away, no setup, instantly start reporting. The fastest and easier to use Incident Reporting App, first launched in 2012 and used by thoiusands across the planet.

Download for Free on iPhone or iPad
Free Download for Google Play